updated 5-30-2016 I have no connection with B&H, in fact they declined to have me as an affiliate advertiser. That said, this is my dream package. So I recommend it, only purchase the components at a different vendor.
Rode
NT1-A Recording Studio Kit with USB / iOS Lightning Audio Interface, Desktop Stand, and Headphones
-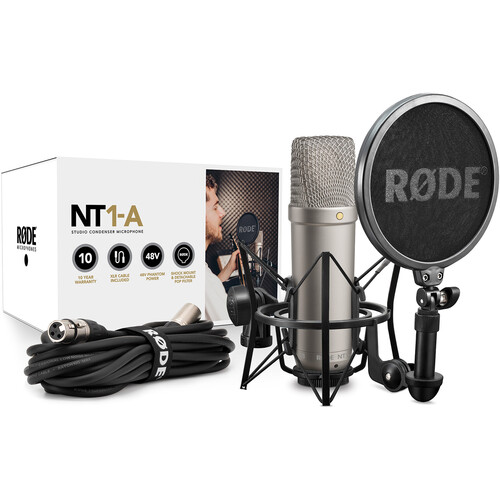 Condenser Microphone w/ 1" Diaphragm
Transformerless Output Stage
USB / Lightning Audio Interface
Premium Microphone Preamplifier'
]\Mac/PC and iOS Lighting Compatible
Telescopic Desktop Microphone Stand
Around-Ear Studio Headphones
Closed-Back Design for Noise Isolation
This B&H Kit combines the Rode NT1-A Vocal Recording Package with an audio interface, a desktop stand, and a pair of studio headphones to provide the primary components of a professional recording package compatible with Mac/PC and iOS Lighting devices, and designed for mobile producers and engineers.
The NT1-A Recording Package includes a large-diaphragm side-address condenser microphone, a studio-grade shock mount with an integrated pop filter, a 20.0' / 6.1m premium cable, and a dust cover. The mic features a 1" diaphragm with a gold-plated membrane, which provides a wide frequency response and exceptional signal-to-noise ratio. The cardioid polar pattern provides excellent off-axis rejection, minimizing noise caused by room ambiance, instruments, monitors, and headphones. The balanced, transformerless output circuitry results in quiet, low-noise signal reproduction at high output levels.
The 2-input/2-output USB audio interface provides an easy way to record instruments and vocals to a Lightning compatible iPad, or a Mac or Windows based computer. Featuring a premium microphone preamp, the interface is housed in a compact, rugged but lightweight aluminum case, and is an excellent companion for any singer-songwriter who wants to record their creations or practice.